Opening in theaters on January 6th is the new film from actress and director Sarah Polley ('Take This Waltz') entitled 'Women Talking.'
Set in 2010, the women of an isolated religious community grapple with reconciling a brutal reality with their faith after it is revealed that men from their community drugged and raped the women at night for years.
The film stars Rooney Mara, Claire Foy, Jessie Buckley, Judith Ivey, Sheila McCarthy, Michelle McLeod, Liv McNeil, and Kate Hallett, Ben Whishaw and three-time Oscar-winner Frances McDormand.
Moviefone recently had the pleasure of speaking with actress Claire Foy about her work on 'Women Talking,' the subject matter, her character's choice, working with the cast, and director Sarah Polley.
Moviefone: To begin with, can you talk about the urgency of the situation your character finds herself in at the beginning of the film?
Claire Foy: The urgency is that these women have been subjected to quite a tragic circumstance. They've been sexually abused, and they've just discovered this. My character wants to seek revenge on the men who have committed the crimes. So, the men are sent away, and they've got 24 hours until the men come back to the colony, and they have to decide what they're going to do.
So, these women who are in the hayloft have been put into the position of deciding for the entire community of women whether they will stay and fight, whether they will stay and do nothing, or whether they will leave. They're on a time pressure. They've only got 24 hours. Also, it's about them getting to decide what world they want to live in. They've been given a tragic set of circumstances, and they get to see what they do with that, I suppose.
MF: Did you agree with your character's point of view and what were some of the challenges you faced as an actress playing this role?
CF: Yeah, I really did. I really identified with Salome's approach to the position that she's in. I think everybody did. I think, all the actors in the film really stood by and championed their character's point of view, but I really did. I felt that it was a very appropriate reaction for what she'd endured, and what her daughter had endured.
There were lots of challenges in that. I think she is challenged in the film a lot. Her position is challenged as all the women's are, and it's about them all coming to a conclusion collectively as a unit about what they will do. That means that sometimes you have to change your mind.
MF: What was it like for you on set surrounded by this incredible cast of actresses?
CF: It was really extraordinary. I was very grateful every day to be there. I was just watching the most extraordinary work being produced and being really proud of seeing the performances that people were able to put in, and also how dedicated we all were to what we were making, and to Sarah, and to the story. It was an incredibly supportive, collaborative, amazing environment to be in.
MF: Finally, what was your experience like working with director Sarah Polley?
CF: Just the best. She's incredibly compassionate. She's so intelligent. She's so open to learning, and she's so self-aware. She's incredibly generous with every single person on set. She believes everybody has a right to be involved in the film they're making and have an opinion. She's what a director should be and what a leader should be. She's so good at setting an example and leading people.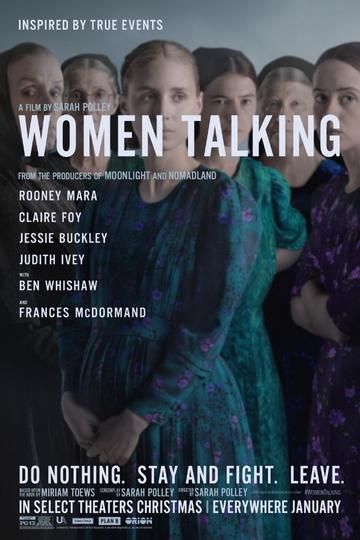 "Do nothing. Stay and fight. Leave."
1 hr 44 min
Dec 23rd, 2022
Do nothing. Stay and fight. Or leave. In 2010, the women of an isolated religious community grapple with reconciling a brutal reality with their faith. Read the Plot