Opening in theaters on January 13th is the new action-thriller 'Plane,' which was directed by Jean-François Richet ('Assault on Precinct 13').
The film stars Gerard Butler ('300,' 'Olympus Has Fallen,' 'Den of Thieves') as commercial pilot Brodie Torrance, who saves his passengers from a lightning strike by making a risky landing on a war-torn island, only to find that surviving the landing was just the beginning.
When the passengers are taken hostage by dangerous rebels, the only person Torrance can count on for help is Louis Gaspare ('Luke Cage's Mike Colter), an accused murderer who was being transported by the FBI. Now, Torrance and Gaspare must learn to trust each other and work together in order to rescue the passengers and survive.
In addition to Butler and Colter, the movie also features Yoson An, Daniella Pineda, Kelly Gale, Paul Ben-Victor, and Tony Goldwyn.
Moviefone recently had the pleasure of speaking with Gerard Butler and Mike Colter about their work on 'Plane,' what audiences can expect from the new movie, why Butler wanted to play this role, and the bond that is formed between his and Colter's characters.
Moviefone: To begin with, what would you both say to audiences getting ready to watch this movie to prepare them for the theatrical experience they are about to have?
Mike Colter: Listen, 'Plane' is a movie that is for everybody. Everybody is going to enjoy this film because this film, it checks all the boxes. It's a thriller, it's passionate, and it's action. It's a character-driven plot that you can't get away from because we basically connect and we're from opposite sides of the spectrum. What people are going to respond to are things that they've experienced in their life, but it's a thrill ride and you just got to watch it from beginning to end, and it's going to be fast so enjoy.
Gerard Butler: I feel like we have the survival, we have the drama, and we have the thriller. It really has so much going on. You're dealing with characters that aren't superheroes, they're characters that you can get behind. They're the underdogs.
One, we have what I think is one of the most thrilling action sequences on the plane as we go through this storm, that we are not letting anybody off the hook. You're in it till the end and it's terrifying. It's just white knuckle, and then that's the start of the movie. Once we land, we're in a whole new world of Hell. But it's such a fascinating dynamic between the passengers, how do you control them?
Then me as a captain who's pretty square, big heart, but I have to rely on essentially an accused murderer, who I know is far better in this environment than I am. It leads to a really, I think, memorable relationship in an action movie between these two guys.
MF: Gerard, Brodie Torrance is an ordinary guy thrown into an extraordinary circumstance. Can you talk about that and the challenges of playing a character like that?
GB: For me, it was a chance for me to play a character who's, in a lot of ways, more like me as a person. He's an everyman. This morning that he wakes up, he's kind of a sad guy. He lost his wife, and he's trying to bond with his daughter. He thinks he's flying on New Year's Eve, and he's going to get some precious time because things haven't been going very well in his career. He is flying for an economy airline on the other side of the world. A few hours later he realizes that he's in a position where these next few hours will define his whole life, and he didn't even know what it was going to pull out of him.
How far does a sense of duty take you that you owe to your passengers or the people around you? He clearly takes that to the extreme, but as I say, there's no perfection in these characters. Is he taking them down the wrong path? Am I going to get them all killed? A lot of the time, I'm gung-ho and this man here's like, "Yeah, that's cool, but there's other ways to go about this." That's another fascinating thing about our dynamic.
MF: Finally, Mike, Louis Gaspare seems uniquely qualified for the situation he finds himself in. Can you talk about that and the partnership that he forms with Brodie?
MC: It's really interesting because we never really lay out exactly all of his skills, or anything like that. But it's interesting because within the context of the two characters, Brodie is more gung-ho, as Gerard said. I'm kind of pulling him back. He's got all the heart, and he's got all the determination. I'm sort of assessing things, trying to figure out how to survive and how to make sure we don't do too much and keep us alive. We're trying to live to fight another day.
So, I think his character inspires my character to do things that he normally wouldn't do for other people because he's never had to. In this situation, he's an accused murderer. If anything, he's about self-preservation. But I think he just sees the passion and the humanity in Brodie. That rubs off on him and that creates this bond between the two of them. Somehow you just see them joined at the hip for a bit and it's a great thing to see.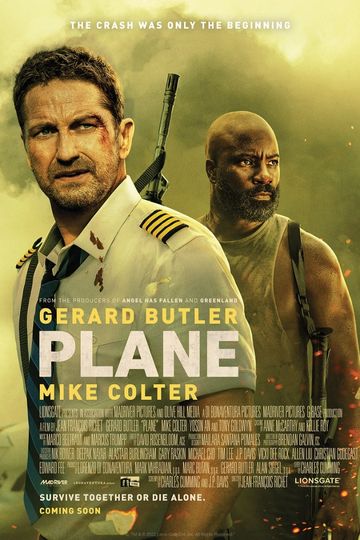 "Survive together or die alone."
1 hr 47 min
Jan 13th, 2023
After a heroic job of successfully landing his storm-damaged aircraft in a war zone, a fearless pilot finds himself between the agendas of multiple militias planning… Read the Plot