Opening in theaters on September 8th, 'The Nun II' attempts to wring more scares out of the demonic habit-wearer first glimpsed in 2016's 'The Conjuring 2'.
Unfortunately, despite some expressive performances from the likes of Taissa Farmiga, Storm Reid and Jonas Bloquet, it falls back on some very tired tropes and giant plot contrivances.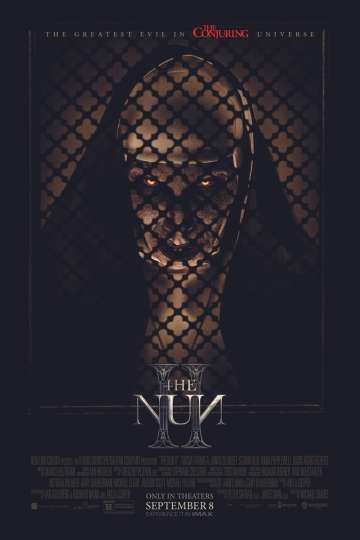 "The greatest evil in the Conjuring universe."
66
R1 hr 50 minSep 8th, 2023
In 1956 France, a priest is violently murdered, and Sister Irene begins to investigate. She once again comes face-to-face with a powerful evil. Read the Plot
What's the story of 'The Nun II'?
'The Nun II', as you might expect, picks up the story of 2018's 'The Nun'.
1956 – France. A priest is murdered. An evil is spreading. The film follows Sister Irene (Taissa Farmiga) as she once again comes face-to-face with Valak, the demon nun (Bonnie Aarons).
Given that Valak was not defeated at the end of 'The Nun', it's in no way surprising that the demonic entity is back to cause more chaos, especially since we learned that Maurice (Jonas Bloquet) was possessed by the creature, and also returns here, this time working as a handyman at a girls' boarding school in France.
Who else is in 'The Nun II'?
The cast of 'The Nun II' also includes Anna Popplewell, Storm Reid, Katelyn Rose Downey, Suzanne Bertish, Léontine d'Oncieu, Anouk Darwin Homewood, Peter Hudson, Tamar Baruch, Maxime Elias-Menet and Pascal Aubert.
Is 'The Nun II' scarily good?
At this point, almost anything from the main 'Conjuring' franchise (which, in case you forgot, sees Vera Farmiga and Patrick Wilson playing real-life paranormal investigators Lorraine and Ed Warren, who come up against some scary situations) that is even slightly popular with audiences ends up getting its own franchise.
So far, we've seen doll Annabelle spin-off for three movies, and demonic Nun Valak is now on her (its?) second. The first 'Nun' movie was directed by Corin Hardy, but for the second, we have 'Conjuring' franchise veteran Michael Chaves, who has so far shot spin-off 'The Curse of La Llorona' and third main 'Conjuring' entry 'The Devil Made Me Do It'.
Here's what we liked about 'The Nun II': the performances, by the returning likes of Taissa Farmiga (sister of Vera, though their onscreen roles are seemingly not connected beyond appearing in the same movie universe) and Bloquet are certainly committed, and Storm Reid, playing a fellow nun, is also a welcome presence in the film. Even if later on, they mostly just have to look wide-eyed in terror.
Chaves and cinematographer Tristan Nyby also bathe their movie in an effective wash of dark, European colors and the environs (shot in France) are convincingly creepy. The boarding school setting works for a horror movie, and also provides a batch of suitably scream-happy youngsters to respond to Valak's terrifying tricks.
And talking of her actions, one or two of the scares are effective, one moment in particular involving a hook working to get the blood pumping. Unfortunately, there the praise ends.
What are 'The Nun II's problems?
Between Chaves and writer Akela Cooper (who has delivered genre fun via movies such as 'Malignant' and 'M3GAN'), you might think that the stage was set for some original horror action. But that's not really the case.
It seems churlish to castigate a horror movie for keeping to the tropes of its genre, but 'The Nun II' rolls out a laundry list of basic cliches that stop being entertaining after a while and will have you start to check your watch.
There are only so many times that Valak can pop up, either as itself or in some other form without warning and you wonder why people keep on screaming when all they have to do is wait a few minutes for the habitual horror to return.
Other scenes are even less effective, particularly one depiction of what is supposed to be the Devil, but which falls foul of what could be dubbed "satanic convenience" –– the creature is seemingly the prince of Hell, but at one point is stopped by a bunch of schoolgirls locking a big door.
Likewise, early in the movie, Valak slays a priest by setting him on fire (it's this act that partly sends Sister Irene on her latest mission to track the demon down), but later on when it tries the same trick with someone more important, the convenient creature starts much slower, so that they can survive.
It's just one frustrating element that derails the power of the film; for most of it, you feel like you've seen all of these moments a hundred times before and pulled off to more successful effect.
How many times, for example, have we seen a character roll or kick a ball into a dark corner in a seemingly empty, only to get a fright when it is kicked back by something or someone unknown? 'The Nun II's version, played out during an early scene, feels like nothing new on that front.
Likewise, the entire plot grinds to a halt when Irene seeks out Father Ridley (Hudson), a friend at the Papal archives (well, the ones in France) that has been researching Valak and other Hellspawn. While getting such information across to the audience is an unfortunate necessity, this scene has Ridley serve as Father Exposition, dishing out the details in such a way that it feels as though it's being dumped on you.
Outside of the terror elements, even the schoolchildren feel like their story is straight from the Big Book of Movie Stories, with mean girls, young outsider heroines and the dedicated teacher all present.
'The Nun II' will certainly appeal to dedicated fans of this giant horror franchise, but feels unlikely to convert newcomers with a basic, often tired series of horrid happenings. We're having none of it.
'The Nun II' receives 6 out of 10 stars.
Other Movies Similar to 'The Nun II':