Opening in select theaters on September 8th before premiering on Prime Video on September 15th, 'A Million Miles Away' chronicles the fascinating, ambitious true story of José M. Hernández, who went from picking crops with his family as a migrant worker to blasting off on the Space Shuttle.
Michael Peña plays Hernández, with Rosa Salazar as his equally ambitious and talented wife Adela, and the story is one to inspire anyone who dreams of making it to orbit.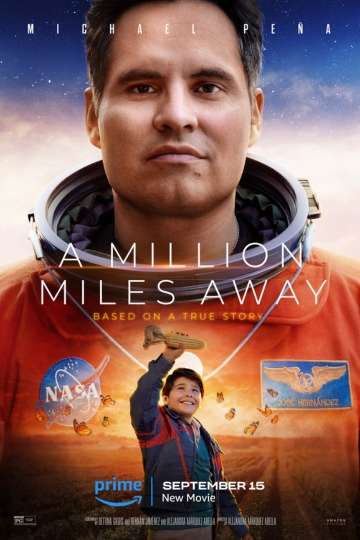 "It takes more than a dream to reach the stars."
78
PG2 hr 1 minSep 15th, 2023

What's the story of 'A Million Miles Away'?
'A Million Miles Away' follows Hernández and his devoted family of proud migrant farm workers on a decades-long journey, from a rural village in Michoacán, Mexico, to the fields of the San Joaquin Valley, to more than 200 miles above the Earth in the International Space Station.
With the unwavering support of his hard-working parents, relatives and teachers, José's unrelenting drive & determination culminates in the opportunity to achieve his seemingly impossible goal.
Who else is in 'A Million Miles Away?
The cast for the biopic also includes Bobby Soto, Sarayu Blue, Veronica Falcón, Julio César Cedillo, Garret Dillahunt and Eric Johnson.
Is 'A Million Miles Away' worth seeing?
It's been quite the year for inspirational Latino stories, between 'Flamin' Hot' and now 'A Million Miles Away'. And if you thought breaking into the world of corporate America's snack business was hard, try going from picking crops to riding on the Space Shuttle!
Director Alejandra Márquez José, working with co-writers Bettina Gilois and Hernán Jiménez, here adapts Hernández' book, 'Reaching for the Stars: The Inspiring Story of a Migrant Farmworker Turned Astronaut', written with Monica Rojas Rubin.
The raw true story is one that has plenty of fuel for a movie, and Abella brings it to the screen with verve, energy and power. Hernández' journey to NASA was far from an easy one; a bright child with a talent for math, he was nevertheless forced to move schools a lot at a young age as his family followed where the farm work was to be found. Yet, supported by his parents, he still managed to become and engineer and then, yes, an astronaut, helping to complete construction of the International Space Station.
Peña, who has long stolen scenes in much bigger movies (and has onscreen astronaut experience thanks to 'The Martian'), here makes for an ideal leading man, his natural exuberance matching well with Hernández' own.
Around him, the director has cast some great performers, with his family standing out –– not the least of which is Rosa Salazar as his dedicated wife. She's vibrant and, unlike some biopics where the wife is reduced to standing by their husband or popping out kids at the expense of their own dreams. Adela managed to combine both.
By the time Hernández made it into the Astronaut Candidate program, the couple had five children and Adela was ready to turn her well-honed cooking abilities into running a Mexican restaurant near the Johnson Space Center.
The story is, of course, focused on José, but it doesn't neglect Adela, charting her own complicated, funny clan, their early dating life and how they coped with challenges (such as José's string of rejections from NASA –– it took him 12 years just to get into the program).
NASA enthusiasts will enjoy the latest peek at astronaut training procedures, but the story doesn't simply take off –– pun entirely intended –– when José realizes his dream; it is compelling and entertaining long before he's glimpsed in the trademark blue jumpsuit.
Adella has crafted a film that makes you root for everyone involved, not just its central figure, and you'd have to have a heart frozen in the depths of space not to have a lump in your throat during certain moments. Watching a real-life story of determination and drive is as emotional as it is rousing.
'A Million Miles Away' might not break much new ground when it comes to biopics, but it's a story worth telling, and it tells it well.
Houston, do we have any problems?
This movie largely sidesteps some common biopic issues –– after all, Hernández' story is not as well-known as some others.
Still, there are a few issues. Given everything that happens in Hernández' life, there is a lot to cram into the story between his family life and his career. It can sometimes feel as though you're watching the movie on fast-forward, as events speed up and we cross several years.
It is, of course, largely unavoidable, given even a generous near two-hour running time, but it's still jarring at times.
And while the story is a fascinating one (and some moments you might think were added for dramatic emphasis, such as his inspirational elementary school teacher Ms. Young, who ends up attending his launch on Discovery, are completely real), the script does occasionally flirt with cliché, people (who, we can assume were invented for the movie) spouting things that sound like a screenwriter made them up rather than an actual human.
Another noticeable concern is the make-up at different times of the story. We're supposed to believe that Peña, 47, is Hernández through the use of some make-up and a filter. Some other scenes of the younger Hernández don't completely convince either, and the same can be said for Salazar when portraying the older Adela Hernández.
Despite any small issues, 'A Million Miles Away' is most definitely worth a watch, especially for anyone of any age who is harboring a dream that people are trying to convince them is impossible. Hernández' drive and grit pulse through the movie, and it certainly finds some fun ways to bring the story to life. And for anyone who might think, 'well, an inspirational biopic of a real hero isn't rocket science…' this time, it actually is.
'A Million Miles Away' receives 8 out of 10 stars.
Other Movies Similar to 'A Million Miles Away:'