Opening in theaters on January 6th is the new sci-fi horror film 'M3GAN,' which was produced by Jason Blum and James Wan, based on a story by Wan, and directed by Gerard Johnstone ('Housebound').
The movie stars Allison Williams ('Get Out') as Gemma, a brilliant roboticist at a toy company who uses artificial intelligence to develop M3GAN, a lifelike doll programmed to be a child's greatest companion and a parent's greatest ally.
After the unexpected death of her sister, Gemma gains custody of her niece, Cady (Violet McGraw) and enlists the help of the M3GAN prototype. However, her decision has horrific consequences when the doll becomes self-aware and overprotective of Cady, leading her to kill everyone!
Moviefone recently had the pleasure of sitting down in-person with Allison Williams to talk about her work on 'M3GAN,' her first reaction to the screenplay, her character's parental situation, the challenges of acting opposite M3GAN, and working with director Gerard Johnstone.
Moviefone: To begin with, what was your first reaction to the screenplay and did the scares in the film read on the page?
Allison Williams: I read it really quickly and in one sitting. I found it just impossible to put down. I probably was sweating by the end, just wondering like, "Oh God, what's going to happen? How are they all going to get out of the situation? Who's going to come out of the situation alive?"
So, it definitely had that momentum to it, and I didn't want to put it down. I found it just super compelling. I mean, Akela (Cooper) writes a good screenplay, so it was a good experience to sit down and read it, for sure.
MF: Your character suddenly becomes the guardian of her niece after her parent's death. Can you talk about how that changes Gemma's life?
AW: She has total myopia. All she cares about is what she does for a living. She's super passionate about it. She's really brilliant. She's really good at it. I have a ton of friends like this, she's the kind of person who If you say, "Do you want a family?" She's kind of like, "Yeah, maybe later, but probably not. We'll see how life goes, but I'm kind of loving being focused on work right now." Then boom, she's an instant parent.
I think that is just something she never saw coming in a million years. She probably promised her sister and then didn't really remember, and now suddenly, here she is, with this little girl who went from having a very full life with two parents, to just living with her aunt in a less than ideal situation. So, it's possible to imagine why Gemma thought, "Oh, I have just the thing to help me with this quagmire." Enter M3GAN.
MF: As an actress, can you talk about the challenges of working opposite M3GAN?
AW: Without sort of ruining the magic of how M3GAN came to be, I've had many experiences that helped, and kind of added together, prepared me for the experience of working with her.
On 'A Series of Unfortunate Events,' the Netflix show, I worked often with kids who either were or weren't there, but there was a piece of tape on the camera. So, I had that experience. I've done work with puppets before and stuff like that, so I think that helped prepare me for what was happening.
MF: Finally, can you talk about how Gerard Johnstone was able to help direct you in your scenes with M3GAN?
AW: Gerard has the most specific tone, and it is very easy to read these things on the page and be like, "I'm not totally sure how this is going to translate to film." But he just always saw and understood how that was supposed to look.
For example, the dance, it reads one way on the page and you're like, "Ooh, that's probably spooky and eerie." But it's entirely another thing to see it in that hallway, the way it was choreographed, the way it was filmed. It just works perfectly in this way that only he can conceptualize.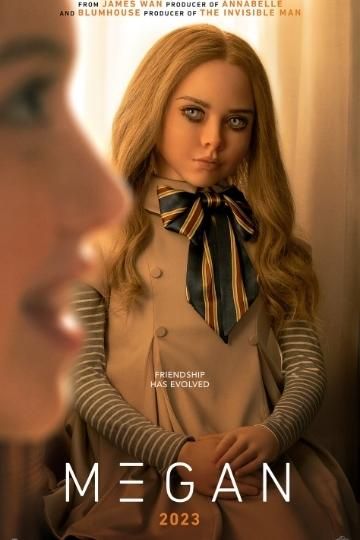 "Friendship has evolved."
70
PG-131 hr 42 minJan 6th, 2023
A brilliant toy company roboticist uses artificial intelligence to develop M3GAN, a life-like doll programmed to emotionally bond with her newly orphaned niece…. Read the Plot