Opening in theaters in wide release on January 13th is the new film 'A Man Called Otto,' which is a remake of the 2015 Swedish movie 'A Man Called Ove.'
Directed by Marc Forster ('Finding Neverland') the new movie tells the story of Otto Anderson (Tom Hanks), a grump who no longer sees purpose in his life following the loss of his wife.
Otto is ready to end it all, but his plans are interrupted when a lively young family moves in next door, and he meets his match in quick-witted Marisol (Mariana Treviño). She challenges him to see life differently, leading to an unlikely friendship that turns his world around.
In addition to Hanks and Treviño, the cast also includes Manuel Garcia-Rulfo, Cameron Britton, Mike Birbiglia, and Rachel Keller.
Moviefone recently had the pleasure of speaking with Mariana Treviño about her work on 'A Man Called Otto,' what audiences can expect from the movie, her character's relationship with Otto, what she learned about acting from Tom Hanks, and working with director Marc Forster.
Moviefone: To begin with, what would you say to people getting ready to sit down and watch this movie to prepare them for the experience they are about to have?
Mariana Treviño: Well, I would just say, Go in there, just sit back and try to receive what's about to happen, because I guess it's a movie that is going to be surprising in many aspects. I just would say you can't miss a Tom Hanks movie. Just go knowing that you're going to get something marvelous because he always delivers that.
MF: Can you talk about Otto and Marisol's unusual friendship together and how they really grow to be like family?
MT: I think they do so in a very beautiful way because it's not rational, it's not calculated in any way. It just kind of happens without either of them noticing it, and they start becoming close, because life works like that. There's a phrase in the book, it says, "Sometimes love comes in a surprising way. You don't expect it, and all of a sudden it's there." I think that's what happens with these two characters and it's a beautiful thing.
MF: Tom Hanks is known as one of the nicest men in Hollywood, but in this movie he's playing a really grumpy character. What was it like for you to work with him and work off of that specific energy?
MT: Well, it was obviously a beautiful gift to be in the project in the first place. I feel so grateful and blessed to have been able to act with him, all my life admiring him, like many people around the world. He's our favorite actor. So, it was wonderful to be the recipient of all the sensibility of his soul, the contents of love that he delivers in every phrase. To watch him work so closely and how he does everything so specifically, every tone that he delivers was just magic. So, I was in awe constantly and in gratitude.
MF: Did anything surprise you about the way he worked? Did you learn anything from watching his process?
MT: Yes, many things, but one of the things was how you never have to let go of the craft, the basics of the craft. You have to keep working, no matter in what part of the scale you are, you have to learn your lines, you have to repeat them, you have to concentrate before you go into a scene, and you have to be willing to be open, no matter the repetitions that you have to do. Tom is all that. It was so inspiring to watch such a big star and such a big actor doing so beautifully the basics of any actor. It was just really inspiring.
MF: Finally, can you talk about working with Marc Forster and watching him execute his vision for this project firsthand?
MT: It was an absolute pleasure. He has such a big heart. He has just such a goodness, and he's an artist in every sense of the word. I think it was a beautiful combination between Marc's sensibility and Tom's sensibility, and they were the captains of the ship. They were leading us all into connecting in an amazing way.
I think Marc is very humble, like Tom is, and we were just working very closely. There was no distance, and Marc did that as well. He was very personable, as well as Tom, from the beginning. We could express everything, and he would listen. You could call him in the night and say, "Oh, my character…" and he would listen. So, this closeness I think helped for the closeness of the characters in general, and the story, of course.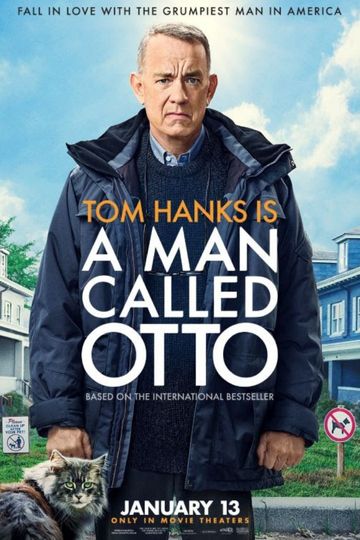 "Fall in love with the grumpiest man in America."
68
PG-132 hr 6 minJan 13th, 2023
Otto is a grump who's given up on life following the loss of his wife and wants to end it all. When a young family moves in nearby, he meets his match in quick-witted… Read the Plot